ALERT: Saturday service is temporarily unavailable.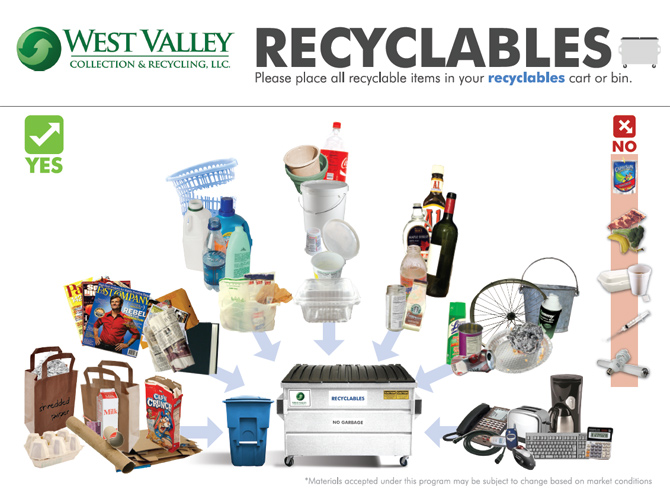 ---
Metal

  

Empty and rinse food and product containers.
Aerosol cans (empty and non-hazardous)
 Aluminum foil, foil trays and pans (clean)
Aluminum pie pans
Beverage and soda cans
Can lids – metal
Car parts – small (no fluids)
Doors and screens
Electrical motors
Food and soup cans
Furniture (e.g. chairs, tables)
Hangers – metal/wire
Keys
Lids and caps – metal (e.g. from glass bottles, jars)
Nuts and bolts
Paint cans (remove excess paint, let residue dry)
Pet food cans
Pipes
Plumbing fixtures
Pots and pans
Propane/gas tanks (empty, with valve off)
Scrap metal
Screws and nails
Sporting goods – metal
Tools – metal
Toys – metal
Umbrellas – metal
Utensils – metal
---
Glass

  

Empty and rinse food and product containers.
Beverage bottles
Blue glass
Broken glass
Dishware – glass
Food jars
Windows – uncoated/unlaminated
Wine bottles
---
Paper

  

Staples and tape are acceptable.
Aseptic containers* (e.g. juice, soup, soy milk)
Books – hardback and softback
Carbonless paper (e.g. receipts)
Cardboard – unwaxed (flattened)
Cereal and cracker boxes (remove liners)
Coffee cups – cardboard (e.g. from coffee shops)
Colored or construction paper
Coupons
Egg cartons – cardboard
Envelopes (plastic window OK)
Frozen food packaging – cardboard
Gift wrap (no metallic/foil)
Juice boxes and cartons – non-aseptic
Junk mail
Magazines and catalogs
Mailers – cardboard (e.g. FedEx, UPS)
Newspaper – clean (including inserts)
Paper bags
Paper cups and plates – clean, uncoated
Photographs – photo paper
Pizza delivery boxes – clean
Shoe boxes
Shredded paper (tie in clear plastic bag)
Telephone books
Tissue paper (e.g. gift wrap, dry cleaning)
White office computer paper
---
Plastic

  

Empty and rinse food and product containers.
Auto parts – plastic (no fluids)
Baby wipe containers
Baskets – plastic
Beverage bottles (e.g. soda, juices, water)
Bleach and detergent bottles
Buckets (remove metal handles)
Coat hangers – plastic
Coffee cup lids
Coolers
Crates – plastic
Disposable razors
Flower pots – plastic
Food containers (e.g. cottage cheese, yogurt)
Furniture – plastic (e.g. chairs, tables)
Gloves – rubber (not single-use or latex disposable)
Hoses (e.g. car, garden, appliance)
Household cleaner bottles (non-toxic)
Mouthwash container
Pet carriers
Pipe – plastic
Plastics #1-#7 except Polystyrene/Styrofoam™
Prescription bottles (must be empty)
Shampoo and conditioner bottles
Shelving – plastic
Squeezable bottles (e.g. honey, mayo, ketchup)
Swimming pools (e.g. rigid, inflatable)
Take-out food containers – plastic
Toys – plastic
Umbrellas – plastic (e.g. patio, beach
---
Film Plastic

  

Bundle in a clear plastic bag and knot the top.
Bread bags
Bubble wrap
Cellophane bags (e.g. pasta, salad, cookies)
Dry cleaning bags
Frozen food bags or pouches
Newspaper bags
Pallet wrap
Plastic or wax liners (e.g. from food packaging)
Plastic wraps
Produce bags
Shopping bags – plastic
Shrink wrap
---
Electronic Waste

  

Place these items inside your recyclables container. Electronic waste may also be dropped off. Please call customer service at 408.283.9250 to schedule an appointment.
Appliances – small (e.g. coffee maker, toaster)
Calculators
Cameras
Cell phones
Computer mice
Cords – tied up (e.g. telephone, computer, appliance)
DVRs, VCRs, DVD players
Fax machines
Keyboards
PDAs
Scanners
Stereos
Printers
Radios
Telephones

Electronic Waste Requires bulky item collection and does NOT go in your container.
Computer monitor
Computer tower
Laptop
Microwave – large
Television
---
ROLL-OFF RENTAL
West Valley Collection & Recycling is the exclusive provider of roll-off and debris boxes for the cities of Campbell, Los Gatos, Monte Sereno and Saratoga. For concrete, dirt and general debris please call Customer Service at 408.283.9250 to order a debris box. Boxes range from 8 to 40 cubic yards.
Outreach/Site Assessment
West Valley Collection & Recycling coordinators provide recycling presentations and site/service assessments with recommendations on how to increase recycling. Please call Customer Service at 408.283.9250 to request an appointment with the outreach department.