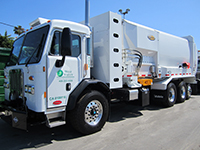 West Valley Collection & Recycling delivers all of the recyclables we collect from the Cities of Campbell, Monte Sereno, Saratoga and the Town of Los Gatos to a Material Recovery Facility (MRF) located in San Jose.
The technology at the state of the art MRF efficiently sorts your mixed recyclable materials; this reduces the amount of sorting you have to do. A system of conveyor belts, screens, electromagnets and blasts of air separate paper from plastics, glass and other materials. Sorted bales and bins of materials are then taken to processing facilities before being sold to make new products.
The process of sorting your recyclables at the MRF is partially automated; employees do handle much of the material. Please remember do not put any hazardous or bathroom waste in your recycling cart, this includes hypodermic needles and diapers.
For more information on what you can recycle at your home, please see our Recycling Guide for Single Family Residents or Recycling Guide for Multi-Family Residents.
Community Recycling Outreach Program
WVC&R wants to share with you the importance of keeping the West Valley community and environment clean by recycling.
WVC&R offers the following to schools, organizations, apartment complexes and businesses in the Cities of Campbell, Los Gatos, Monte Sereno, and Saratoga:
Recycling Presentations
Recycling Information/Resource table
Recycling Activity Booth
There is no charge for the Community Recycling Outreach Program.
To schedule a presentation, a booth for your event or if you have any questions about the program,
please contact Outreach Coordinator at 408-283-9250 or by email at customerservice@westvalleyrecycles.com.
Resources for Students, Teachers and Parents:
Activities and Games
o Roscoe's Recycle Room
http://www.recycleroom.org/
o Recycle City
http://www.epa.gov/recyclecity/
o Recycle Roundup
http://kids.nationalgeographic.com/kids/games/actiongames/recycle-roundup/
o Recycle This!
http://climatekids.nasa.gov/recycle-this/
o Science Kids – Recycling
http://www.sciencekids.co.nz/recycling.html
Arts and Crafts
o Education.com
http://www.education.com/activity/recycled-crafts/
o Kinder ART
http://www.kinderart.com/recycle/
Links
o CalRecycle – Education and the Environment Initiative http://www.californiaeei.org/
o Earth 911
http://www.earth911.com/recycling-center-search-guides/
o Environmental Protection Agency – Educationhttp://www3.epa.gov/epawaste/education/teens/reduce.htm
o Keep America Beautiful – Waste in Place
http://www.wasteinplace.org/
o RAFT (Resource Area for Teaching)
http://www.raft.net/
o Santa Clara County – Integrated Waste Management http://www.sccgov.org/sites/iwm/Pages/iwm.aspx
o Trash Sources & Pathways Visualized by SCVURPPP (Poster)http://westvalleyrecycles.com/serviceareas/pdf/CASQA-Poster-2014.pdf