West Valley Collection & Recycling is making recycling easier. Simply enter your address to view your collection schedule, request a large item pickup or enter a material to see if it's recyclable.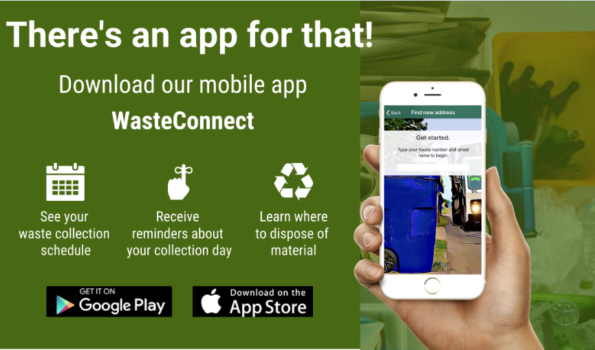 ---
Statewide Mandatory Organic Waste Collection 
California State Law, Senate Bill 1383 (SB1383), requires all jurisdictions to provide organics recycling collection, https://calrecycle.ca.gov/organics/slcp/collection/. Residents and businesses are required to place food scraps and food-soiled paper into organics containers along with yard trimmings to divert from the landfill.  To help residents sort and transport organics from the kitchen to the organics cart, WVC&R will provide a complimentary kitchen pail upon request – Please contact WVC&R at customerservice@westvalleyrecycles.com or (408) 283-9250 to request a pail.
To use the pail:  keep the pail in your kitchen, fill it with food scraps/food-soiled paper, and EMPTY THE PAIL INTO YOUR ORGANICS CART OFTEN, AS NEEDED. DO NOT PLACE THE PAIL OUTSIDE OR ON YOUR CART FOR WEEKLY COLLECTION. Food scraps and food-soiled paper from the pail need to be inside your organics cart in order to be collected.  Drivers will not empty the pails into the cart.
Click here for a detailed list of what goes in the organics cart.
CONTAMINATION MONITORING
As a part of California's initiative to reduce its carbon footprint and contribution to climate change, you've likely started using the Organics Recycling Service provided by WVC&R at your home or business.
Sorting into a brand-new waste stream may not be an easy adjustment for everyone, which the state of California and WVC&R recognize. As such, contamination Monitoring was implemented in 2022 and will continue annually. Going forward, WVC&R will be conducting state required contamination monitoring at randomly selected commercial and residential properties. Monitoring will occur on service days for all containers on site; WVC&R staff will be lifting container lids and visually examining the contents. This will allow WVC&R representatives to confirm proper sorting practices and identify how customers can be supported in their sorting efforts going forward. This monitoring process is not only a state requirement, but is also an excellent opportunity for WVC&R to find ways to effectively engage and educate the communities we serve on new sorting techniques!
Click here to view WVC&R's Single-Family How-To Guide
Click here to view WVC&R's Multi-Family How-To Guide
SB 1383
Click HERE for more information on SB 1383 and how it will affect residents, businesses and multi-family complexes!
What is SB 1383?
SB 1383 is California's law to reduce organic waste methane emissions and is referred to as California's Short-Lived Climate Pollutant Reduction Strategy.
SB 1383 is the most significant waste reduction mandate to be adopted in California in the last 30 years.
Organics recycling is mandatory for all.  "Organics" is food scraps, food-soiled paper, and yard-trimmings; this material must stay out of the landfill.
Why is SB 1383 Important?
California is now experiencing the effects of a climate crisis: hotter summers with world record-breaking temperatures, even more devastating fire seasons, more extreme droughts, and rising sea levels that erode our coastlines.
Scientists tell us that greenhouse gasses released by human activities, like landfilling food and yard waste, cause climate change.
To respond to this climate crisis, California is implementing statewide organic waste recycling and surplus food recovery.
Will recycling food waste and other organics really make a difference?
Landfills are the third largest source of methane in California.
Organic waste in landfills emits:
20% of the state's methane, a climate super pollutant 84 times more potent than carbon dioxide.
Air pollutants like PM 2.5, which contributes to health conditions like asthma.
Organics like food scraps, yard trimmings, paper, and cardboard make up half of what Californians dump in landfills.
Reducing Short-Lived Climate Super Pollutants like organic waste will have the fastest impact on the climate crisis.
Much of the details in the questions above are from CalRecycle and more information can be found on their website.
How does SB 1383 affect my service?
SB 1383 is a California law pertaining to all businesses and residents. All WVC&R organics service is provided at no additional charge, it is included with the cost of your garbage service.
If you live in a single family home:
Place all food scraps, food-soiled paper, and yard-trimmings in your organics cart.  If you have a brown yard waste cart, this is your organics cart.
Here's what's accepted in your organics cart https://westvalleyrecycles.com/single-family-how-to-guide/#organics.
Please contact WVC&R if you haven't already received a kitchen pail at customerservice@westvalleyrecycles.com or (408) 283-9250.
If you live in a multi-family complex:
All residents must place food scraps, food-soiled paper, and yard-trimmings into the organics container provided.  There should be at least one organics cart stationed at every garbage/recycling collection area, otherwise, contact your Property Manager to order additional carts.
Here's what's accepted in the organics container https://westvalleyrecycles.com/multi-family-how-to-guide/#greenwaste.
WVC&R will provide kitchen pails to multi-family Property Managers for resident distribution.  Property Managers may contact WVC&R at customerservice@westvalleyrecycles.com or (408) 283-9250 to request kitchen pail deliveries to the Leasing Office or drop-off location.
If you own or manage a business:
WVC&R is here to help your business participate properly in the organics recycling program. WVC&R can provide outreach such as:
posters for businesses https://westvalleyrecycles.com/how-to-posters/
organics recycling presentations for employees, tenants, janitors, and contractors
on-site waste assessments to provide best-practice suggestions for implementation
If you would like to request outreach, please email us at customerservice@westvalleyrecycles.com
What organics are acceptable in my yard trimmings cart?
Acceptable organics include:
FOOD SCRAPS: meat, poultry, fish, bones, egg shells, fruit, vegetables, bread, pasta, beans, solid dairy, coffee grounds/filters and tea bags
FOOD-SOILED PAPER: paper towels/napkins, paper plates, pizza boxes, paper take-out food containers
YARD-TRIMMINGS: flowers, grass clippings, cactus, leaves, plant trimmings, lumber (unpainted/untreated, under 3" diameter and 2' long), branches (under 3" diameter and 2' long), ivy, Christmas trees (clean with stand and decorations removed)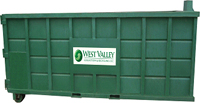 Please call customer service at 408.283.9250 to schedule your debris box or for more information.
---
PRIVACY NOTICE FOR CALIFORNIA RESIDENTS
Waste Connections is providing this notice to comply with the California Consumer Privacy Act of 2018 ("CCPA") and other California privacy laws. Any terms defined in the CCPA have the same meaning when used in this notice.
Please click on the following link wasteconnections.com/ccpa#categories for: (i) a list of categories of personal information we will be collecting, and (ii) the business purposes for which such personal information will be used.
Complete copies of our Privacy Policy and our supplemental California Privacy Policy may be found at wasteconnections.com/privacy and wasteconnections.com/ccpa.
If you have any questions or comments about this notice, our Privacy Policy, or our supplemental California Privacy Policy, the ways in which we collect and use your personal information, your choices and rights regarding such use, or wish to exercise your rights under California law, please visit us at wasteconnections.com/ccpa or call our toll-free number at 844-858-2240.